What is Canva? Canva is an all-in-one design tool where businesses can easily manage all of the visual assets for their brand, create knock-out graphics and short videos for their social media accounts. Whether you're a novice designer or professional graphic artist, Canva's design platform offers the flexibility and features to create a professional-looking design for just about any purpose.
How to use Canva.
Canva's drag-and-drop functionality makes the tool very easy to use. With over 420,000 professionally designed and fully customisable templates to choose from, you can create a range of graphics quickly and matching with your brand.
The tool's search feature makes it simple to discover images and illustrations from third-party artists, which you can add to your own designs. You can also upload your own graphics and fonts.
Canva has recently added to their graphics and photo editing feature. This means that users can apply more effects to images, automatically remove backgrounds and add a drop-shadow to text.
There are many more benefits to using Canva. By downloading the app, you can access the software through a mobile device and create graphics on the go. With up to 100GB of storage, it's easy to organise your workspace into folders. You can also invite your team to collaborate with you on designs.
Working with an agency? With the brand kit feature, your designer can upload all the content which represents your brand's identity. That includes your logo, colours, fonts and messaging associated with your business.
If you're a current client of Think Zap, you can sign up to Canva through an affiliate account and we'll get you set up with all the graphics you need to start designing.
What can you use Canva for?
Canva is a tool that just keeps on growing by adding new features and building on its functionality. Here's how you can use it for your business…
Use Canva for Social.
Social media is a fast-paced and competitive space. With Canva, you don't have to invest a lot of time and money into achieving visually stunning graphics to share on your business's accounts.
Data shows that visual content is better received by users and gets more engagement. As well as branded graphics for organic posts and ads, Canva is great for designing…
Facebook Cover Photos
This is the first image people see when they visit your page. It gives an instant impression about your brand and what you can offer them.
Instagram Stories
According to research by Hootsuite, over 1 billion people use Instagram every month. 500 million of those are using the Stories feature every day. This makes the platform and feature well worth investing time into.
Reviews
Your customer's feedback is important for social proof and building trust with your followers. You can use Canva to share any positive reviews in a way which is visually appealing and stands out.
Use Canva for Videos.
Canva introduced video-editing software last year, so it's definitely a feature to keep an eye on.
Canva's video editing software is great for creating gifs and short videos you can share on social media. Videos are easily customisable. Change their frame size, add text and icons, mix in music, and more.
Use Canva for Emails.
With nearly 70% of new businesses using email marketing, and the average person checking their email 15 times per day or every 37 minutes, emails are an effective marketing tool to communicate with subscribers at every stage of your customer journey.
Canva's design features can help you maximise the effectiveness of your email marketing. From beautifully-designed newsletters your audience will actually enjoy reading, to branded email headers which presents your key message in a memorable and meaningful way.
Use Canva for Business.
Not only is Canva great for designing marketing materials, you can also use the tool to make branded and visually appealing work documents. Under the "Documents" section, there's a number of business-friendly templates to choose from. Here are the top 10 examples of how you can use Canva in this way…
Business Cards

Brochures

eGuides and eBooks

Vouchers

Invoices

Presentations

Stationary

Letterheads

Checklists

Invitations
What is Canva Pro?
Many of Canva's features are available for free, but the tool also offers a premium plan known as Canva Pro. It comes with access to more premium content, such as photos, templates, graphics and unlimited folders with advanced features and better collaboration functionality.
Here's a side-by-side comparison between Canva Free vs. Pro Plan.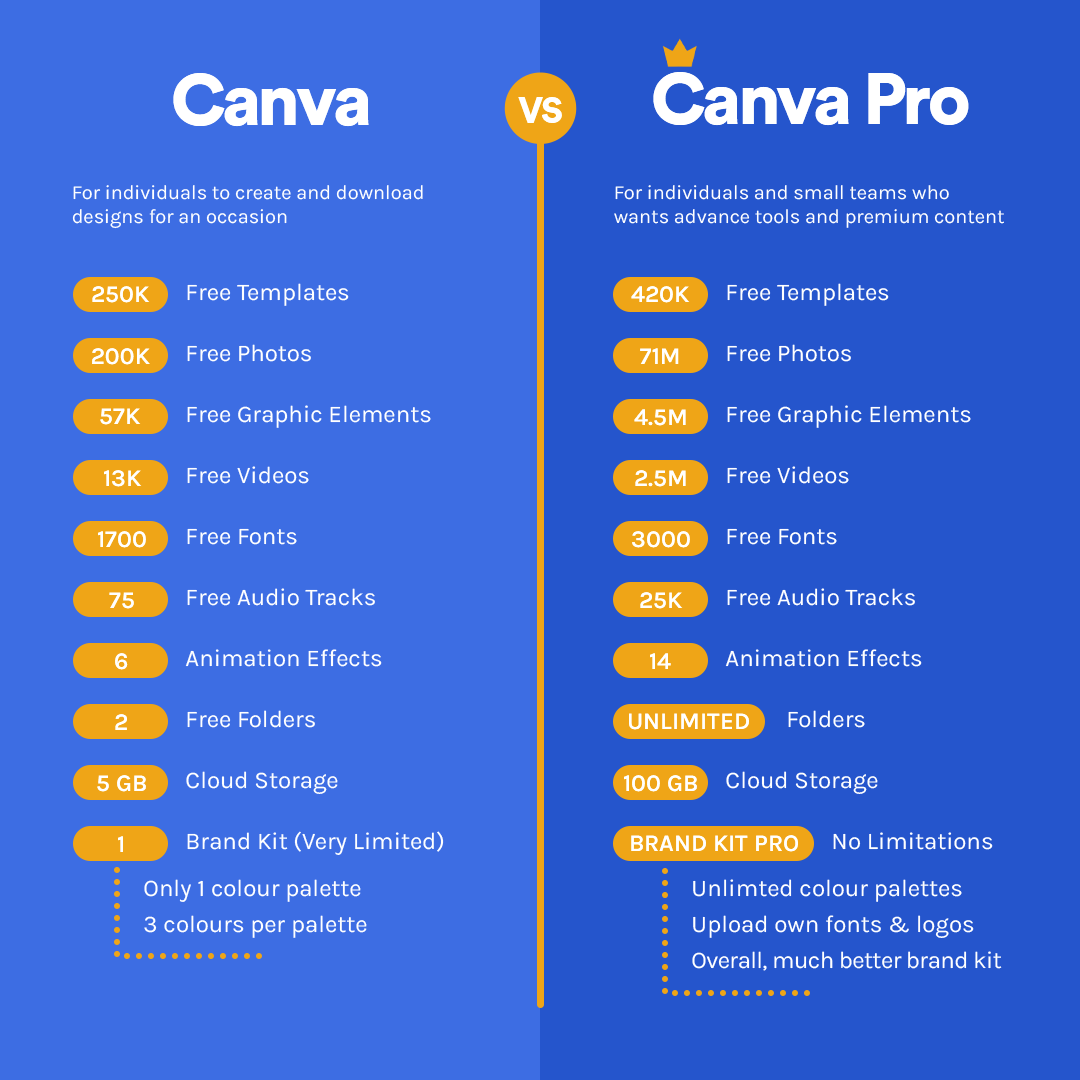 With the free version of Canva, you have a very limited brand kit. That means access to only one colour palette with three different colours, and you can't upload your own fonts or logo. With Canva Pro, there's no limitations for the brand kit. You can also create and invite team members, making it easy to collaborate and design together.
Other features included within Canva Pro are:
Background Removal

– remove the background from an image with just one click.

Transparent Images

– stack multiple backgrounds, or a transparent background with other design elements, to create interesting visual effects by layering different colours, photos, or shapes.

Magic Resize

– instantly resize your designs into any content format. For example, you can turn an Instagram post into a header for your email.

Content Planner

– schedule content for your social media accounts and have Canva automatically publish posts without the need for another scheduling tool

Animator Pro

– create animated graphics with 14 different animation styles downloadable as a gif or movie format (MP4).
The subscription cost for Canva Pro starts at £11.99/month or £99.99/annual. Taking into consideration all the features offered, as well as how Canva has proven that they'll continue, this is a cost-effective tool for your business.
If you're still unsure whether Canva Pro is right for your business, we recommend signing up for the 30 day free trial. This can be cancelled at any point during the period.
Are you a current client of Think Zap? You can sign up to Canva through an affiliate account and we'll get you set up with all the graphics you need to start designing.